Rachel Gutish
Jordan Jarvis Takes Third WMX Win This Season at Loretta Lynn's
TimeTuesday, August 14, 2018 | 1:00 PM
FOR IMMEDIATE RELEASE
(304) 284-0101
[email protected]
Jordan Jarvis Takes Third WMX Win This Season at Loretta Lynn's
Women's Motocross Championship Race Report
HURRICANE MILLS, Tenn. (August 14, 2018) – Because of torrential downpours, the inaugural Jessica Patterson Classic was postponed, so although Loretta Lynn's was originally Round 7 on the schedule, it was actually the fifth competition for the WMX riders this season. The Loretta Lynn's AMA Amateur National Motocross Championship is hallowed ground in the world of motocross; here is where you come to see the future pros in action. As many WMX racers came up through the ranks at Loretta's, headlining the event is in a way a type of homecoming. They raced on Saturday, August 5th, the last day of the 2018 amateur nationals. Surprisingly, the weather was mild with no rain during race week, which meant excellent track conditions, though the course was pretty rough by the final day of racing.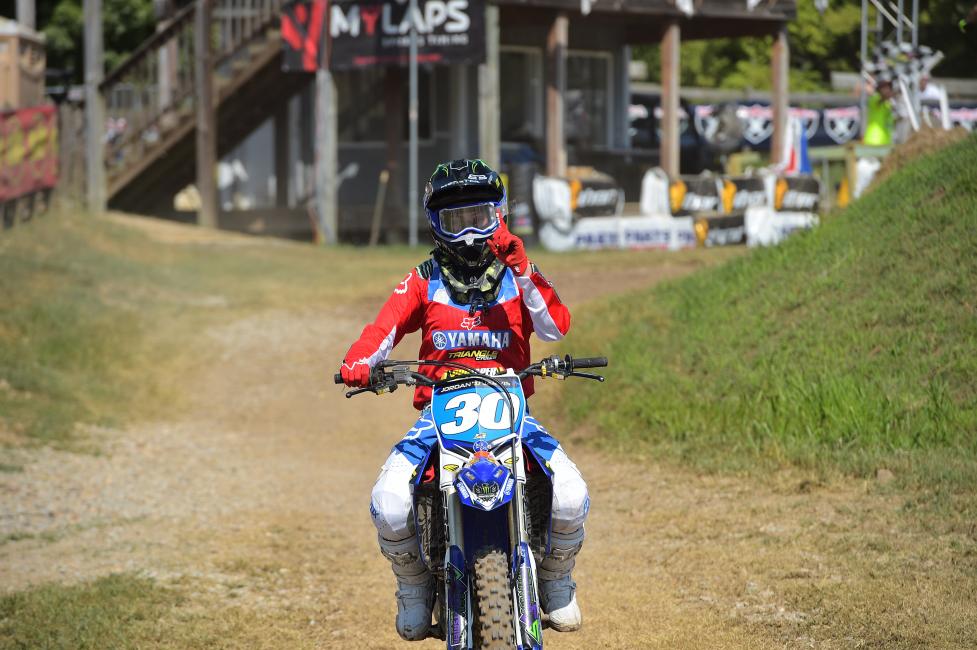 With her 1-1 finishes, Jordan Jarvis took home her third overall win this season, which gives the seventeen-year-old from South Carolina a solid lead in the points. She sits 48 points ahead of Shelby Rolen, who finished 3-3 for a third place overall. Hannah Hodges, finally back at it after taking some time off from the series, placed second overall for the weekend with 2-2 moto finishes.
In moto one, Jarvis ran away with the lead and never looked back. She steadily put time on Hodges, her closest competitor. By the time the checkered flag waved, Jarvis had over twenty seconds on her. Meanwhile, Hodges would finish with an even bigger gap, beating third place by over a minute.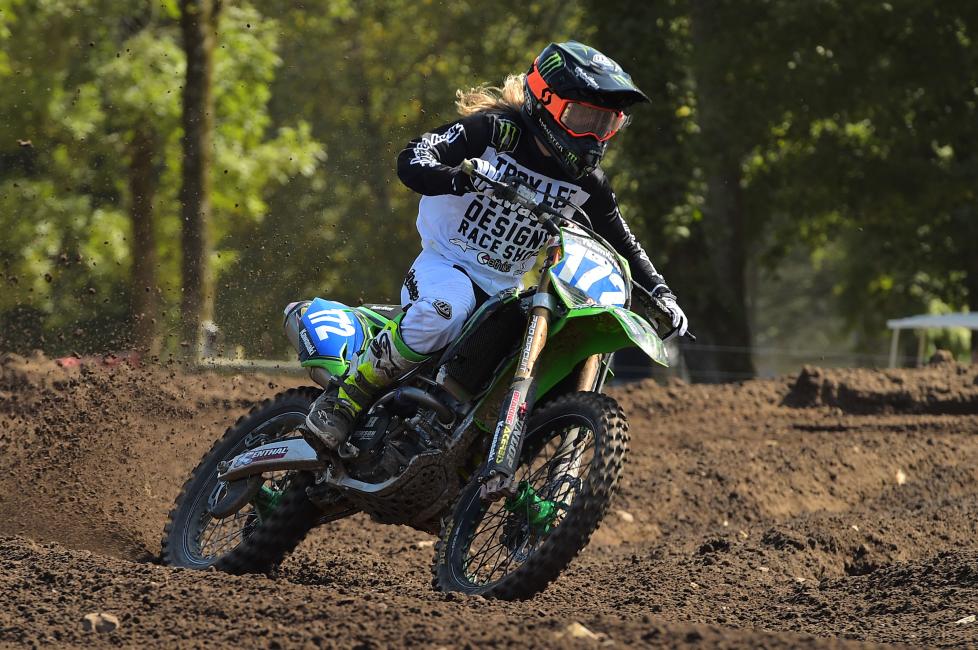 On the other hand, there was a tight battle between third and fourth place riders Shelby Rolen and Jamie Astudillo. The two traded positions three times during the race; the battle ended on lap eight, when Astudillo lost twenty seconds to Rolen and was unable to recover.
Autumn Rodman and Samantha Peters took fifth and sixth place in moto one and were the last two riders to stay on the lead lap. Both finished within seconds of Astudillo. This was the first WMX race of the season for the pair, both of whom also competed in the Women Amateur class earlier in the week. Brinsley Dyess, Bryce Martinez, Carrie Killebrew and Samantha Farr rounded out the remainder of the top ten.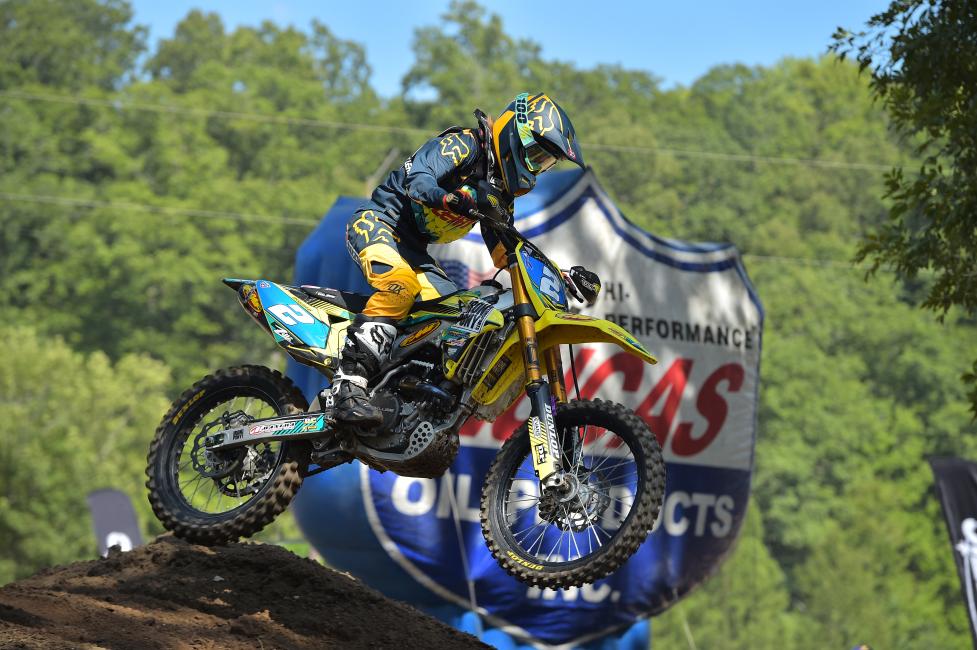 In the second moto, Hodges took the holeshot, but before the lap was finished, Jarvis would recover from her third place start to take the lead. Unlike in the previous moto, the two remained within a razor-thin margin of each other. Hodges even briefly took the lead, following a mistake by Jarvis near the ten commandments section. Unfortunately for Hodges, Jarvis retook the lead before the top two began encountering lapped riders, which makes it far more difficult to catch back up. Hodges told us, "I struggled to find a flow. I tried to get as comfortable as I could and ended up with a second place finish."
Jarvis was excited to "redeem herself" after her lackluster 2017 Amateur Nationals week. "I had an awesome week at Loretta's! I won every moto I raced in, got my fourth title in the Women's 12+ class and won the WMX race as well I met a lot of great people and got to hang out with some good friends. This was one of my best years there for sure."
In a repeat of the first moto, Rolen and Astudillo were again duking it out for the final podium position. Adding to the tension was the fact that whoever came out on top this moto would take third overall for the weekend as well. After coming together with another rider in the first corner, Rolen battled her way up from seventh into third place by the third lap. Astudillo stayed close for another lap or so, but then began to fall back. While perhaps not as exciting as her first WMX overall win at High Point last round, "An overall podium weekend with great battles is always a good weekend", according to Rolen.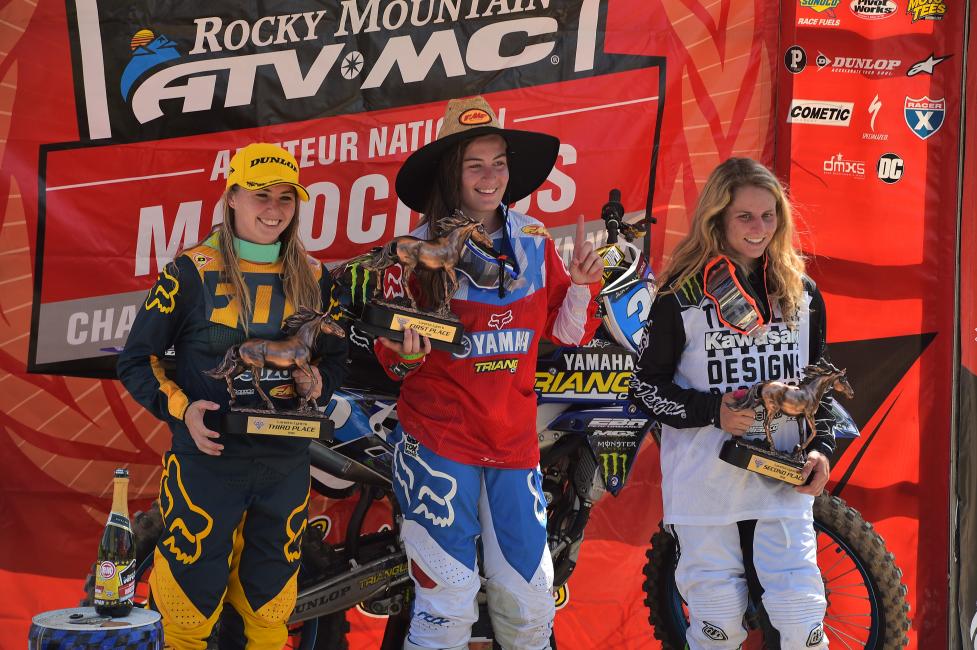 While Rolen's rally from seventh to third was notable, one of the most impressive charges of the race was the effort put forth by Bryce Martinez. She was running in sixth place until she clipped a tree on the second lap and was hit in the back by another rider while getting up. After getting cleaned out it took her about a minute to get off the ground, and she was able to recover from seventeenth back up to tenth by the end of the moto – without goggles, no less.
Autumn Rodman would have worse luck though. She had some severe problems during the second moto, as she dropped back from 6th to 18th place in the space of a lap. Despite her fifth place in moto one, the 18th place effectively took her out of contention for a high weekend overall placement. Her competition, Samantha Peters, took fifth place in this moto, while sixth through ninth were filled by Dyess, Farr, Amanda Henderson and Brittani Majcher.
On August 24, the WMX series will resume with what was originally the final round of the season. It will be held in conjunction with the Ironman Pro Motocross, held at Ironman Raceway in Crawfordsville, Indiana. As of now, the Jessica Patterson Classic will be rescheduled for a later date and serve as the final round for the 2018 WMX series.
For more information about WMX racing, please visit the official website at ww.racewmx.com or call (304) 284-0101. Also, follow the official Facebook, Twitter and Instagram accounts for exclusive content and to catch the latest news.
WMX (Loretta Lynn's) Overall Results
Jordan Jarvis (1-1) Yamaha-Triangle Cycles/Fox/Monster Energy
Hannah Hodges (2-2) Team Green Kawasaki/Pro Circuit/Troy Lee Designs
Shelby Rolen (3-3) Suzuki RM Army/Iron Pony Motorsports/FMF
Jamie Astudillo (4-4) KTM/RadMX.com/Ohlins
Samantha Peters (6-5)A*R*T Suspension and Motors/Sun Enterprises/Spy
Brinsley Dyess (7-6) Suzuki
Samantha Farr (10-7) Yamaha
Bryce Martinez (8-10) Babbits/FMF/MX Donations
Amanda Henderson (12-8) Babbits/Fit Body Boot Camp Chesterfield/Motocross Ladies
Brittani Majcher (11-9) FXR/Factory Connection/6D
WMX Points Standings
Jordan Jarvis (230)
Shelby Rolen (182)
Kylie Fasnacht (155)
Jamie Astudillo (152)
Hannah Hodges (113)
Amanda Brown (101)
Eve Brodeur (99)
Marissa Polencheck (96)
Brinsley Dyess (90)
Cheyanne McGuin (82)
About The Women's Professional Motocross Championship:
The Women's Professional Motocross Championship (WMX), an AMA National Championship, features the world's fastest female outdoor motocross racers. The 8-round series begins with the Ricky Carmichael Amateur Supercross at Daytona International Speedway in March and concludes at the Ironman National on August 24. It includes stops at premier motorsport facilities across America, with events in Florida, Texas, West Virginia, Pennsylvania, South Carolina, Tennessee and Indiana. These top female pro racers compete in a two-moto format on machines ranging from 125cc to 250cc. The WMX series is managed by MX Sports Pro Racing, a West Virginia-based company and industry leader in power sports event production. For more information, please visit www.racewmx.com or call (304) 284-0101.
About the American Motorcyclist Association:
Founded in 1924, the AMA is a not-for-profit member-based association whose mission is to promote the motorcycle lifestyle and protect the future of motorcycling. As the world's largest motorcycling rights and event sanctioning organization, the AMA advocates for riders' interests at all levels of government and sanctions thousands of competition and recreational events every year. The AMA also provides money-saving discounts on products and services for its members. Through the AMA Motorcycle Hall of Fame in Pickerington, Ohio, the AMA honors the heroes and heritage of motorcycling. For more information, visit www.americanmotorcyclist.com. Not a member? Join the AMA today: www.americanmotorcyclist.com/membership/join.