Rachel Gutish
Jordan Jarvis Dominates Ironman WMX
TimeTuesday, September 4, 2018 | 10:25 AM
FOR IMMEDIATE RELEASE
(304) 284-0101
[email protected]
Jordan Jarvis Dominates Ironman WMX
Ironman Women's Motocross Championship Race Report
CRAWFORDSVILLE, Ind. (September 4, 2018) – Ironman Raceway is one of the newer stops on the Lucas Oil Pro Motocross Championship circuit as well as the Women's Motocross Championship Series. The property however has a twenty-year history with off-road racing, as it has been home to the Ironman Grand National Cross Country (GNCC) round since 1995. A major perk of Ironman for the WMX riders is that many industry people are out in full force, as the final round the Pro Motocross Championship occurs the following day.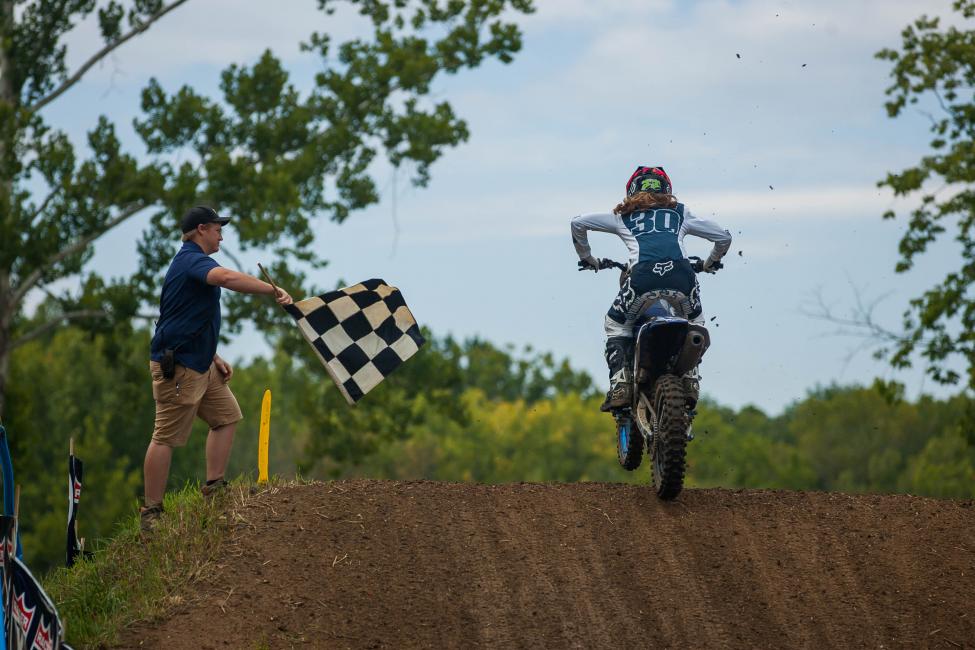 The surrounding land and pits are deceptive, because there is a lot of flat Indiana cornfield nearby. The track itself sits in a giant depression in the ground though, which allows for some of the greatest elevation changes in the entire WMX series. In addition to the massive hills, the thick and loamy soil forms challenging ruts in both the corners and straightaways, making it a tough but enjoyable track. Due to rain in the days leading up to the WMX round, a rough track with even deeper-than-usual ruts was created, a challenge that the WMX riders had not yet experienced this season. On the bright side, the rain held off on Friday creating beautiful weather for the woman and amateur racers.
Jordan Jarvis had another perfect 1-1 round, winning for a fourth time this season, and giving her a 54-point lead over second place holder Shelby Rolen. The top three had remarkably consistent rides throughout both motos at Ironman, as Rolen would finish second with 2-2 moto placement, while Marissa Polencheck would earn her first podium finish of the season with 3-3 moto finishes.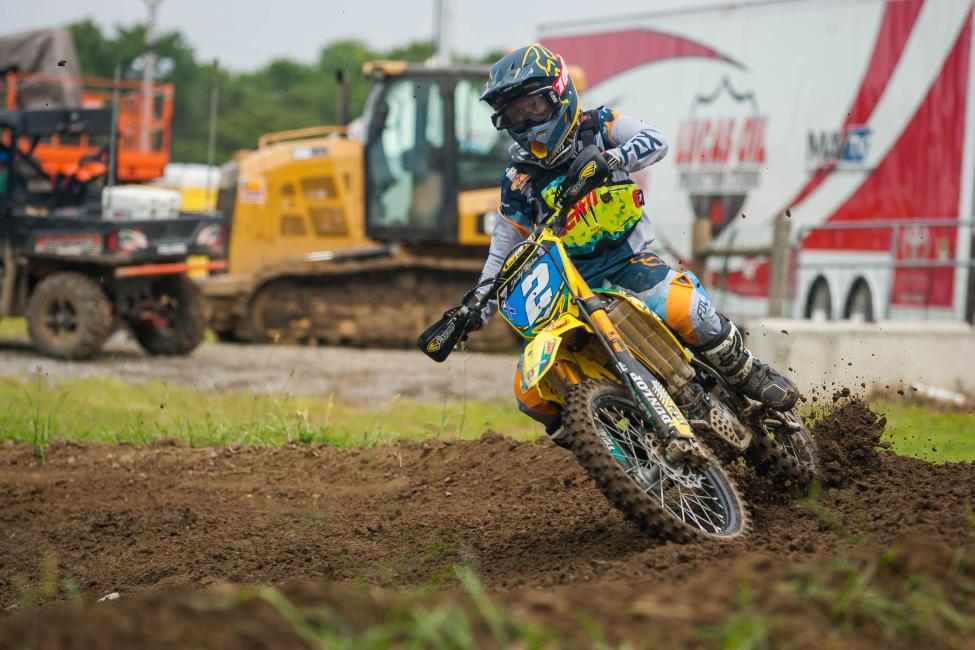 When the gate dropped for the first moto of the day, Rolen took the holeshot with Jarvis close behind and Cheyenne McGuin in third. Jarvis quickly passed Rolen and even more quickly extended her lead. She would win the moto in a dominating fashion, crossing the finish line completely out of the other riders' sight. After passing Rolen, she focused on cleaning the uphill triple (the only WMX rider to attempt it all weekend), which probably helped her pull away on the others so quickly. Rolen would come in second place, also with a decent gap over Polencheck, who rode in third place for the majority of the race.
After Cheyenne McGuin's third place start, not much of her moto went smoothly. Midway through the moto she was passed by Autumn Rodman, who went on to eventually finish fourth. Near the end of the moto, her back end slid out in a muddy corner and she lost an entire lap trying to kickstart her bike after her boots packed up with mud while picking up her bike. This gave Morgan Johnson an opening to take fifth place, while McGuin salvaged a sixth-place finish.
The ruts were deeper and the track was rougher, but moto two unfolded in a very similar fashion as moto one. Rolen again took the holeshot, and managed to hang onto the lead for the first several corners. However, in a dramatic and thrilling pass, Jarvis jumped over Rolen on the uphill triple, taking the lead. Jarvis again quickly extended the gap between her and Rolen, though not as much as in the previous moto. After the race she filled us in on her strategy: "The track was rough, but fun. I tried to get out there and be smart and be safe. This was my first time here at Ironman, and I want to come back next year for sure!"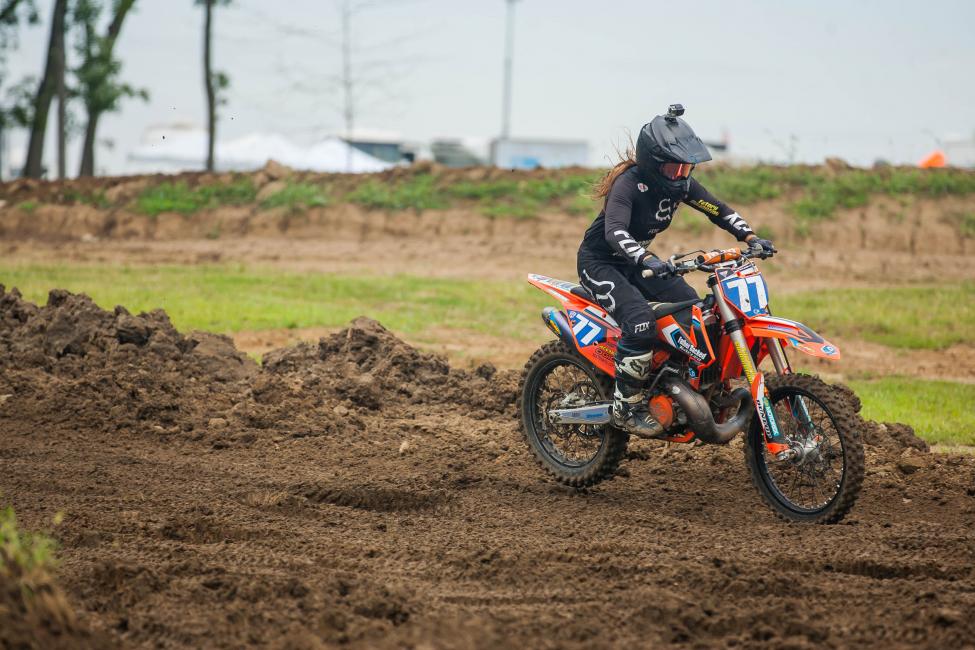 Rolen was optimistic about her ride, saying "While Jordan [Jarvis] still had a good lead over me, I was able to stay closer to her this moto, although Marissa [Polencheck] also stayed a little closer to me as well. Moto two was a tighter race overall. It was a good time!" Third place Polencheck also had a good time: "The track was a little gnarlier second moto, but I had a blast."
Rodman got a fourth-place start, and ran fourth the entire moto, leaving her 4-4 for a fourth place overall finish on the weekend. This time, McGuin was able to hold on to fifth, making her finishes 6-5 and leaving her in fifth overall, just ahead of Johnson's 5-6. Rodman was happy with how she rode, given that conditions are much different than what she normally faces. "The track was pretty gnarly – we don't really have ruts or elevation like this in Oklahoma, which kind of threw me off-guard." McGuin, like Jarvis, enjoyed Ironman, telling us "It was great to be out here at Ironman, and I am looking forward to coming back here again!"
The weekend was not quite over for Jarvis and Rolen once the podium ceremony ended. Both riders competed in the 125cc All-Star class on Pro Day, taking home 5th and 12th place finishes against some of the top male 125cc riders in the country.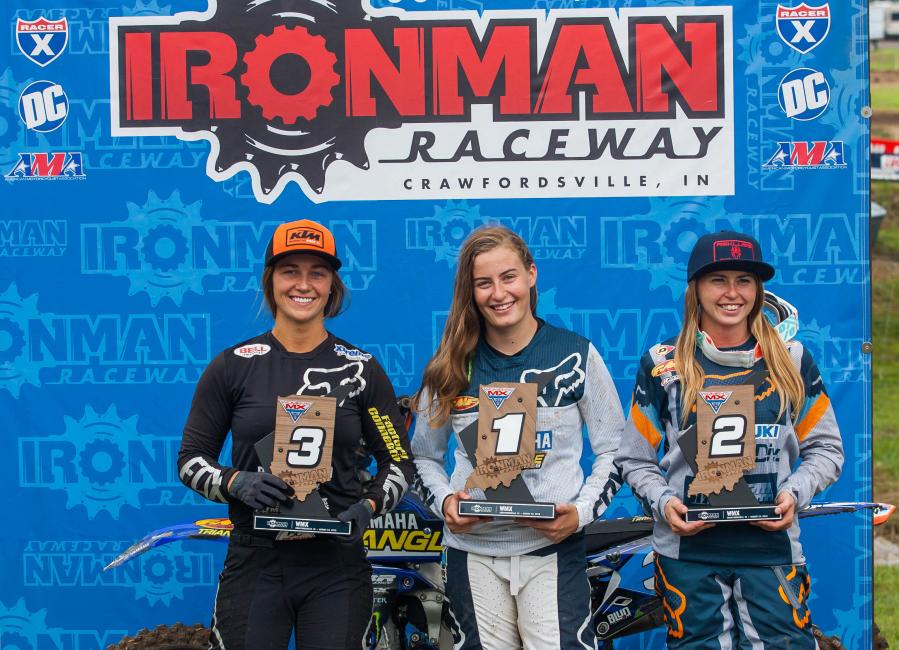 The makeup date for the inaugural Jessica Patterson classic will serve as the next and final round for the WMX riders, although no date has been confirmed as of press time. For more information about WMX racing, please visit the official website at ww.racewmx.com or call (304) 284-0101. Also, follow the official Facebook, Twitter and Instagram accounts for exclusive content and to catch the latest news.
WMX (Ironman) Overall Results
Jordan Jarvis (1-1) Yamaha-Triangle Cycles/Fox/Monster Energy
Shelby Rolen (2-2) Suzuki RM Army/Iron Pony Motorsports/FMF
Marissa Polencheck (3-3) Kawasaki
Autumn Rodman (4-4) Yamaha
Cheyenne McGuin (6-5) Yamaha
Morgan Johnson (5-6) Yamaha
WMX Points Standings
Jordan Jarvis (280)
Shelby Rolen (226)
Kylie Fasnacht (155)
Jamie Astudillo (152)
Hannah Hodges (113)
Cheyenne McGuin (113)
Morgan Johnson (112)
Amanda Brown (101)
Eve Brodeur (99)
Marissa Polencheck (96)
About The Women's Professional Motocross Championship:
The Women's Professional Motocross Championship (WMX), an AMA National Championship, features the world's fastest female outdoor motocross racers. The 8-round series begins with the Ricky Carmichael Amateur Supercross at Daytona International Speedway in March and concludes at the Ironman National on August 24. It includes stops at premier motorsport facilities across America, with events in Florida, Texas, West Virginia, Pennsylvania, South Carolina, Tennessee and Indiana. These top female pro racers compete in a two-moto format on machines ranging from 125cc to 250cc. The WMX series is managed by MX Sports Pro Racing, a West Virginia-based company and industry leader in power sports event production. For more information, please visit www.racewmx.com or call (304) 284-0101.
About the American Motorcyclist Association:
Founded in 1924, the AMA is a not-for-profit member-based association whose mission is to promote the motorcycle lifestyle and protect the future of motorcycling. As the world's largest motorcycling rights and event sanctioning organization, the AMA advocates for riders' interests at all levels of government and sanctions thousands of competition and recreational events every year. The AMA also provides money-saving discounts on products and services for its members. Through the AMA Motorcycle Hall of Fame in Pickerington, Ohio, the AMA honors the heroes and heritage of motorcycling. For more information, visit www.americanmotorcyclist.com. Not a member? Join the AMA today: www.americanmotorcyclist.com/membership/join.