Rachel Gutish
Jordan Jarvis Repeats Success at the Tomahawk
TimeFriday, May 4, 2018 | 3:00 PM
Jordan Jarvis Repeats Success at the Tomahawk
Women's Motocross Championship Round 3 Race Report
MORGANTOWN, W.Va (May 4, 2018) – On Saturday, April 21, fourteen riders lined up for round three of the Women's Motocross Championship (WMX) Series. This round was co-sanctioned with the Mid-Atlantic Motocross Association (MAMA), and located at Tomahawk MX in Hedgesville, West Virginia. This is a new venue for the WMX series, and was slightly different than the other rounds thus far this season. Challenging to begin with, most of the track was groomed immediately before each of the WMX motos, which made finding lines a little more tricky than usual.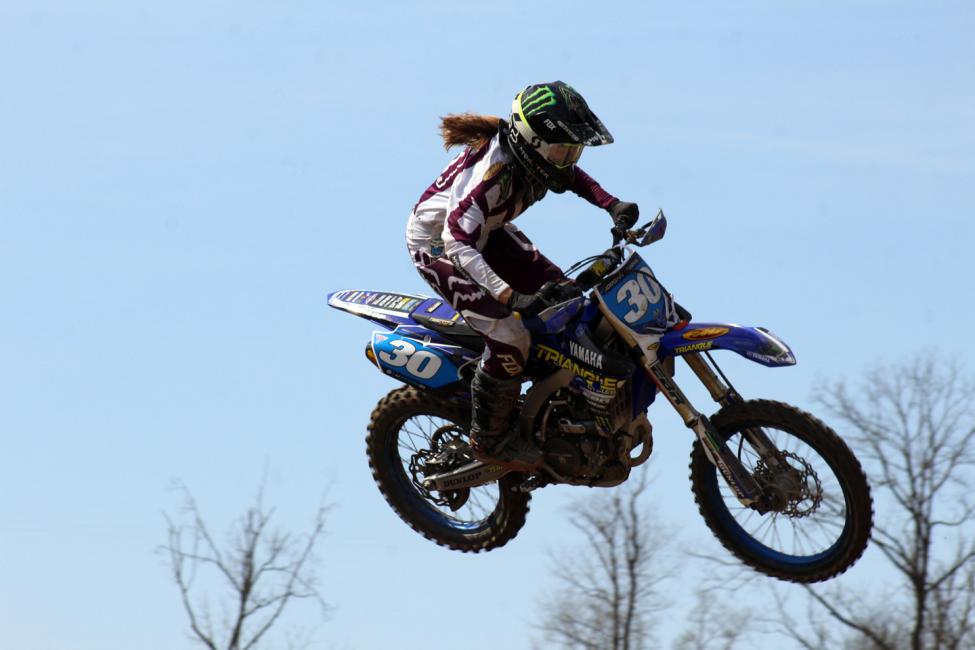 In a repeat of last round's results, North Carolina's Jordan Jarvis took another win with a perfect 1-1 finish. Kylie Fasnacht again placed second with a 2-2 finish. Jamie Astudillo, back from her history-making Moto America exploits, where she became first woman to podium in the professional series, went 3-3, taking the last podium spot.
Astudillo was first off the gate in moto one, with Shelby Rolen in second place behind her. Jarvis passed Rolen in short order and had taken the lead from Astudillo by the end of the first lap. Meanwhile, after a less-than-ideal start, Fasnacht struggled to make passes on the first lap, but was able to work her way up into a solid third by lap two. Slowly but surely she began to catch Astudillo, making the pass for second halfway through the moto.
Although the gap between Jarvis and Fasnacht leveled off during the last half, Fasnacht was unable to meaningfully decrease it, and the two finished out the race just over ten seconds apart. Astudillo came in a little behind them for a third place finish in the moto. Rolen's fourth place position remained unchallenged for the remainder of the race after getting passed by Fasnacht in the second lap.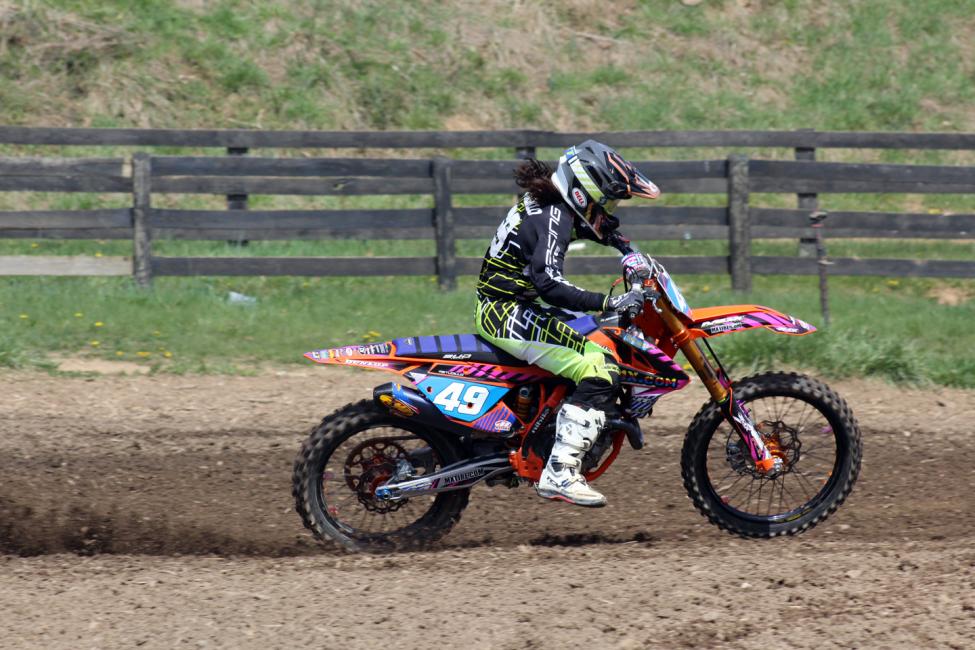 Meanwhile, Eve Broadeur had been holding a steady fifth place position before making a mistake on lap three, which would drop her to seventh behind Amanda Brown and Amanda Sokalski. Despite soreness from an earlier practice crash, Broadeur was able to recover from the bad lap, passing Sokalski the following lap and Brown two laps later.
Brown and Sokalski took the sixth and seventh place positions in the moto, staying relatively close together. Although they finished a lap down from the rest of the pack, an intense battle was raging for positions eight through ten. The gap between Marissa Peck, Nicole Gaudern and Morgan Johnson got progressively smaller and smaller, and by the last lap they finished practically on top of each other, with only five seconds separating the three of them.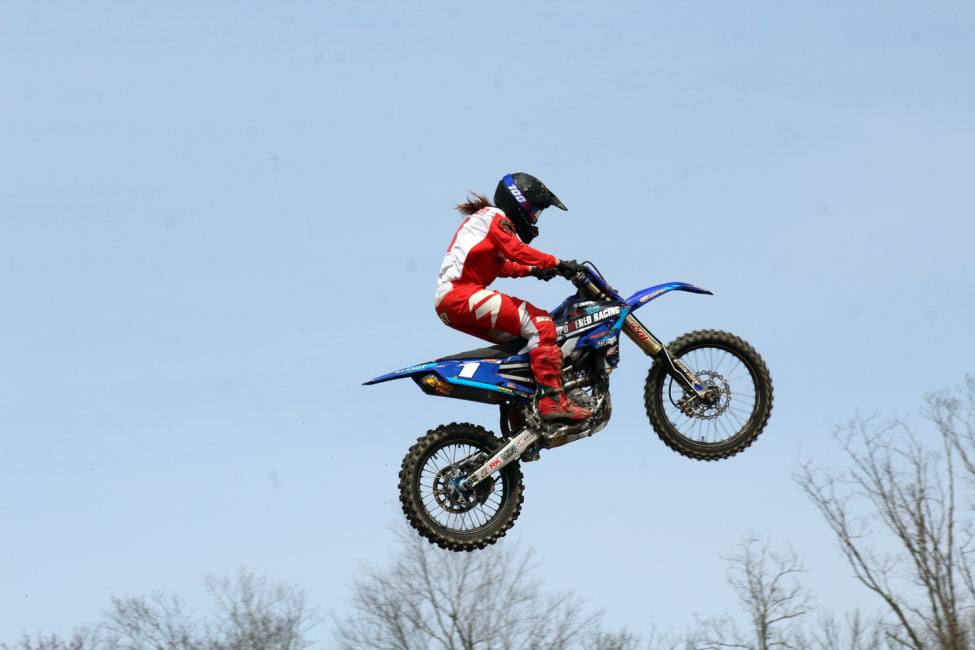 When the gate dropped on moto two, it was a similar scene to the first moto, with Astudillo taking the holeshot once again. Rolen got a good jump as well, but both riders were passed by Jarvis early in the moto. Jarvis would develop a commanding lead, and finish a full fifteen seconds ahead of her next closest competitor to take the overall win. This was all the more impressive given that she missed Friday's practice to attend her high school prom. She told us "It was great to win again, especially at this track! I grew up not too far from here and have been riding in the area since I was on a 50cc. I felt good on the bike and I'm ready for the next round."
Astudillo rode an excellent second moto, holding on to second place up until the last lap, despite intense pressure from Fasnacht for the five laps prior. Astudillo talked about her great battle with Fasnacht, and stated "obviously there is room for improvement, but I think I did better than I did at my last WMX race in Daytona." Fasnacht was able to make the pass for second on the last lap with little time to spare, despite having an issue with her brakes throughout a large part of the moto. "The race had its ups and downs. I struggled to make passes and had mechanical issues, but everyone was riding really well. Congrats to Jordan Jarvis for capturing another win!"
Throughout the first half of the moto, Rolen again rode alone in fourth, but Brodeur was steadily making up time. In the last half of the moto, the two had a tight battle, and Rolen was unable to hold Brodeur off. This placed Brodeur in fourth overall for the weekend (5-4), and dropped Rolen back to fifth (4-5). This was not all the racing Rolen would be doing, however. She wrapped up an already long weekend of racing by driving to South Carolina and taking a ninth place finish at the Camp Coker Bullet GNCC.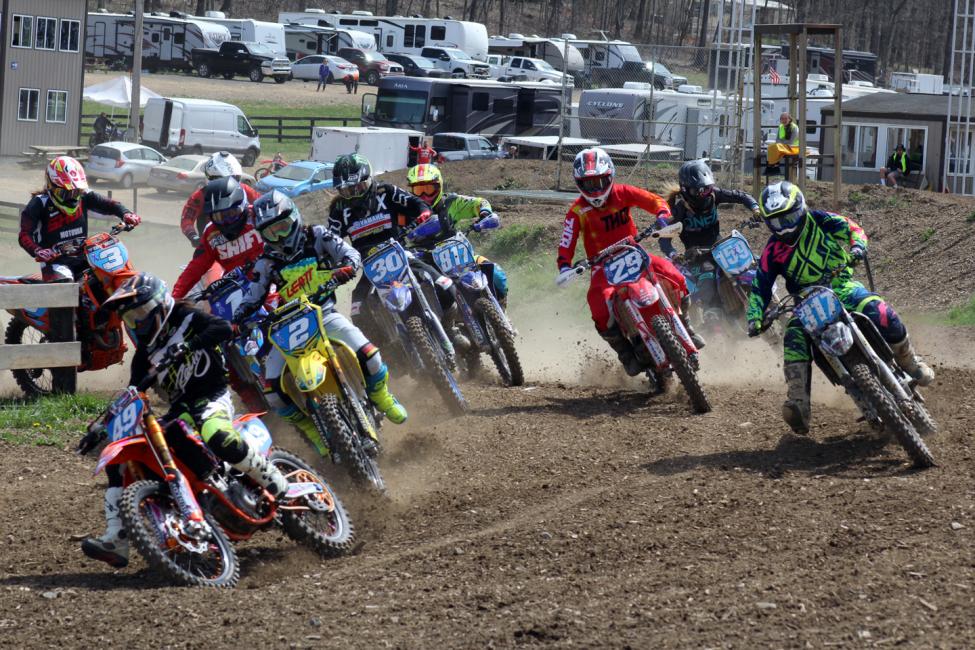 Brown and Sokalski again had some of the best racing in the moto, despite being back a ways from the pack. They stayed less than one second apart from the third lap on through the finish. They swapped positions several times, but Brown would again come out on top, taking sixth and leaving Sokalski in seventh. Morgan Johnson, Emilie-Jade Leveille, and Nicole Gaudern filled in the remaining top-ten spots overall.
After a long break, the WMX series will return this summer with the historic High Point National. The WMX round will take place on June 15th, the day before the Lucas Oil Pro Motocross Championship on the 16th. In the meantime, you can get your women's racing fix by following the many upcoming Loretta Lyn's Qualifiers , the Women's Pro ATV Motoctoss, or by checking out the off-road bike and ATV racers competing in the GNCC series.
For more information, please visit the official website at ww.racewmx.com or call (304) 284-0101. Also, follow the official Facebook, Twitter and Instagram accounts for exclusive content and to catch the latest news.
WMX Round 2 (Freestone) Overall Results
Jordan Jarvis (1-1) Yamaha-Triangle Cycles/Fox/Monster Energy
Kylie Fasnacht (2-2) Yamaha/Factory Connection/Acerbis
Jamie Astudillo (3-3) KTM/RadMX.com/Ohlins
Eve Brodeur (4-5) KTM Canada/TCX Boots/Shot Race Gear
Shelby Rolen (3-4) Suzuki RM Army/Iron Pony Motorsports/FMF
Amanda Brown (6-6) Traders/Joplin Racing/Accurate Pest Control
Amanda Sokalski (7-7) Kawasaki
Morgan Johnson (10-8) Yamaha
Emilie-Jade Leveille (11-10) KTM
Nicole Gaudern (9-12) Kawasaki
WMX Points Standings
Jordan Jarvis (135)
Kylie Fasnacht (133)
Shelby Rolen (97)
Jamie Astudillo (78)
Amanda Brown (77)
Hannah Hodges (69)
Eve Brodeur (68)
Nicole Gaudern (63)
Brinsley Dyess (61)
Marissa Polencheck (60)
About The Women's Professional Motocross Championship:
The Women's Professional Motocross Championship (WMX), an AMA National Championship, features the world's fastest female outdoor motocross racers. The 8-round series begins with the Ricky Carmichael Amateur Supercross at Daytona International Speedway in March and concludes at the Ironman National on August 24. It includes stops at premier motorsport facilities across America, with events in Florida, Texas, West Virginia, Pennsylvania, South Carolina, Tennessee and Indiana. These top female pro racers compete in a two-moto format on machines ranging from 125cc to 250cc. The WMX series is managed by MX Sports Pro Racing, a West Virginia-based company and industry leader in power sports event production. For more information, please visit www.racewmx.com or call (304) 284-0101.
About the American Motorcyclist Association:
Founded in 1924, the AMA is a not-for-profit member-based association whose mission is to promote the motorcycle lifestyle and protect the future of motorcycling. As the world's largest motorcycling rights and event sanctioning organization, the AMA advocates for riders' interests at all levels of government and sanctions thousands of competition and recreational events every year. The AMA also provides money-saving discounts on products and services for its members. Through the AMA Motorcycle Hall of Fame in Pickerington, Ohio, the AMA honors the heroes and heritage of motorcycling. For more information, visit www.americanmotorcyclist.com. Not a member? Join the AMA today: www.americanmotorcyclist.com/membership/join.