Rachel Gutish
Defending Champion Kylie Fasnacht Wins in Daytona
TimeFriday, March 23, 2018 | 5:05 PM
FOR IMMEDIATE RELEASE
(304) 284-0084
[email protected]
Women's Motocross Championship Round 1 Race Report
Defending Champion Kylie Fasnacht Wins in Daytona
MORGANTOWN, W.Va (March 23, 2018) – Once again, the Women's Motocross Championship (WMX) series kicked off alongside the annual Ricky Carmichael Daytona Amateur Supercross (RSCX). RCSX is a unique event in that it allows amateur riders to race a similar course to the one their favorite pro supercross riders did the night before, meaning that it too takes place on the hallowed ground of the Daytona International Speedway. As one of the premier events in the nation, it is a worthy race for our Women's Pro motocross racers to headline.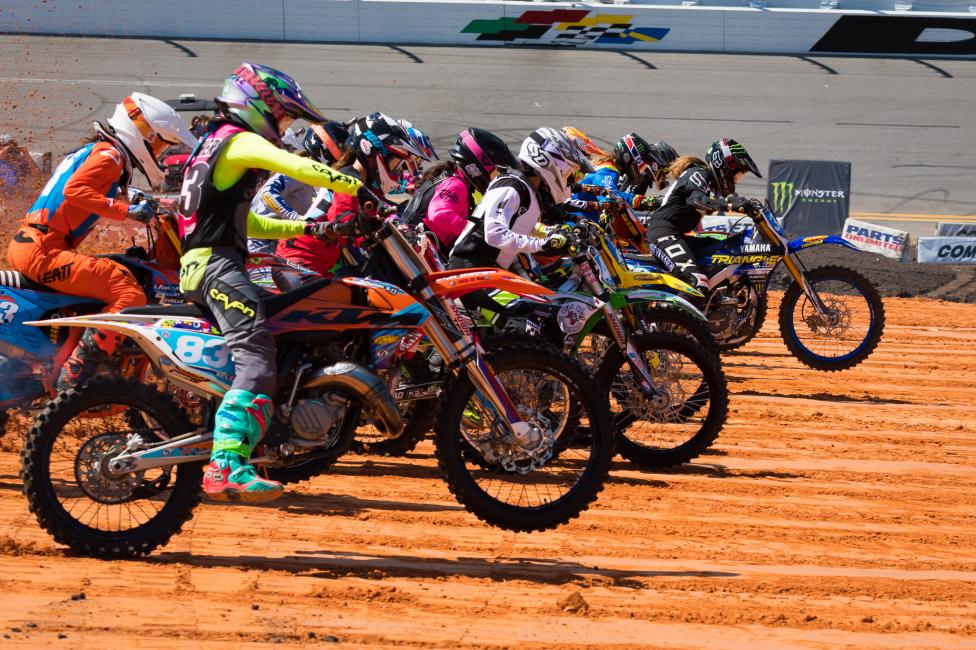 RCSX and round one of the WMX was one of many racing events that took place in conjunction with the Daytona Bike Week festivities, a list that also included a Grand National Cross Country (GNCC) round and an American Flat Track event. Many WMX riders also found time the morning before their race to attend the first "Women in Racing Conference", designed to promote motorcycle riding and racing among women and provide more opportunities for female racers.
In addition to the valuable series points provided at round one, the moniker of "WMX Supercross Champion" was bestowed upon the race's overall winner, as this is the only supercross-style track that these women will compete on this year. Of the fourteen women who took to the track, Florida's Kylie Fasnacht would take home that honor after a 2-1 finish, coming in ahead of second overall Hannah Hodges' 1-2 finish and third place finisher Jamie Astudillo, who went 4-3.
In Moto One, Astudillo pulled the Bell Helmets holeshot, with Hodges and Fasnacht close behind. They survived a fraught first-corner pileup that took out Evѐ Brodeur, Shelby Rolen and Marissia Polencheck, among others.
Within the first two laps, Hodges, Jordan Jarvis, and Fasnacht made their way around Astudillo, who would ride alone for the remainder of the moto, and take a fourth place finish. Polencheck would charge her way up into the sixth place position, but was unable to catch back up to fifth place finisher Brinsley Dyess. Bryce Martinez took seventh, while Emiliѐ-Jade Leveille, Cassie Belcher and Morgan Johnson rounded out the top 10.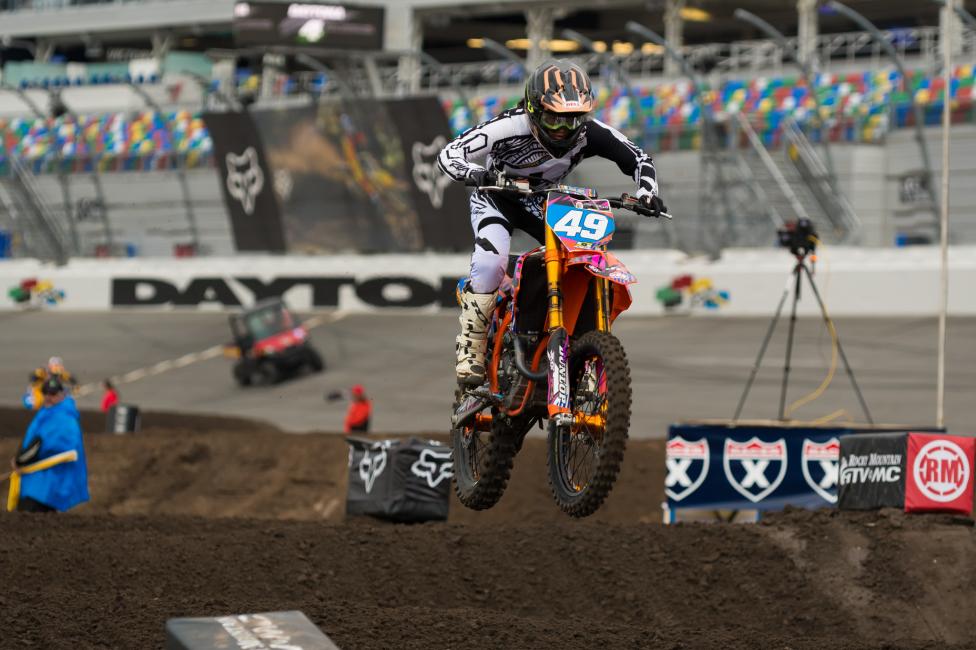 Having passed Astudillo, Fasnacht set her sights on Hodges and Jarvis. While she had the speed to catch and pass Jarvis before the checkered flag waved, she was unable to gain the necessary ground on Hodges, who had earlier set the fastest qualifying time.
When the gate dropped for moto two, it would once again be Astudillo taking the Bell Helmets holeshot. Astudillo, Fasnacht, Hodges and Jarvis were right on top of each other, battling hard for the first two laps.
Similar to moto one, Astudillo would drop back after lap two and ride most of the moto without further competition. Meanwhile, early on in the race Jarvis and Hodges came together in a corner, allowing Fasnacht to sweep around the outside of them and jump into the lead. The rest of the moto was smooth sailing with a clear track ahead of her. Fasnacht took the win in the final moto and in the combined overall for the weekend as well.
Jarvis would go down in this collision, allowing Hodges to pull away while Astudillo, Rolen and Dyess also got around her. Hodges lost time in the incident as well, and couldn't make it up, ultimately finishing out the day in second overall. Likewise, Astudillo would take third in the final moto and third overall.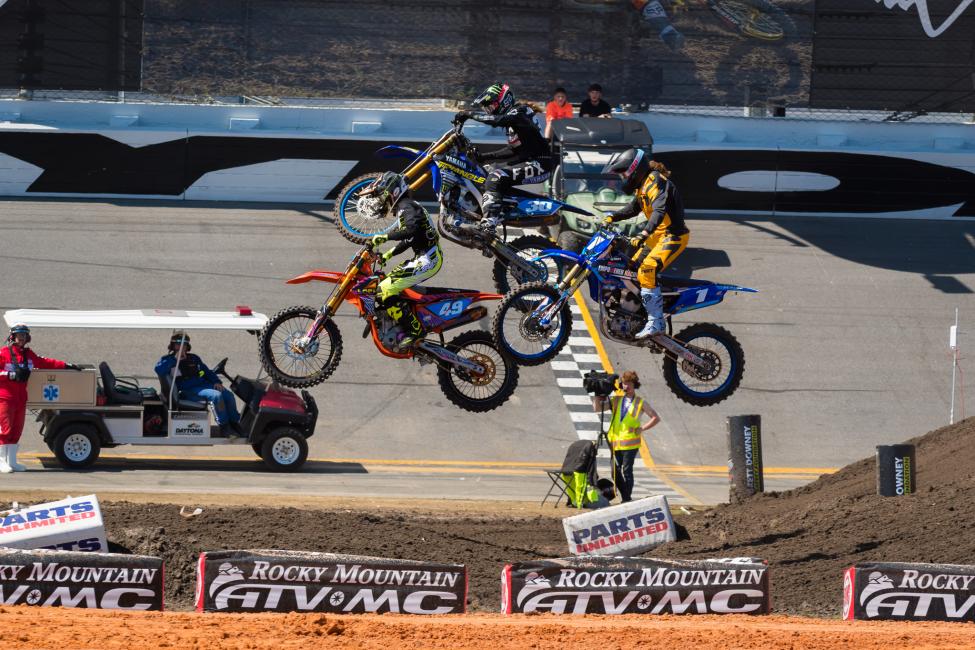 Despite struggles with a bike that had quit near the end of moto one, Rolen was able to overcome this challenge to take the fourth place position. Dyess finished in the fifth place position for the second time that day. Jarvis' crash forced her back to sixth. Polencheck, Martinez, and Amanda Brown all had good battles for seventh through ninth, and final top-10 spot in moto two went to Leveille.
According to overall winner Fasnacht, her win might not show it, but Daytona was rough for her. In addition to switching brands this season, which entails a number of changes to a racer's program, she also spent her off-season racing in the ISOC Snocross series. She told us, "I'm still getting used to dirt bikes again, but I'm back on two wheels and training to become better than I've ever been. It [Daytona] was a fun race and I can't wait to compete with these girls for the rest of the series!"
Round two of the 2018 WMX series is set to take place this weekend on Saturday, March 24th, at Freestone MX in Wortham, Texas. This round will be held in conjunction with the AMA Freestone Spring Championship.
For more information, please visit the official website at ww.racewmx.com or call (304) 284-0101. Also, follow the official Facebook, Twitter and Instagram accounts for exclusive content and to catch the latest news.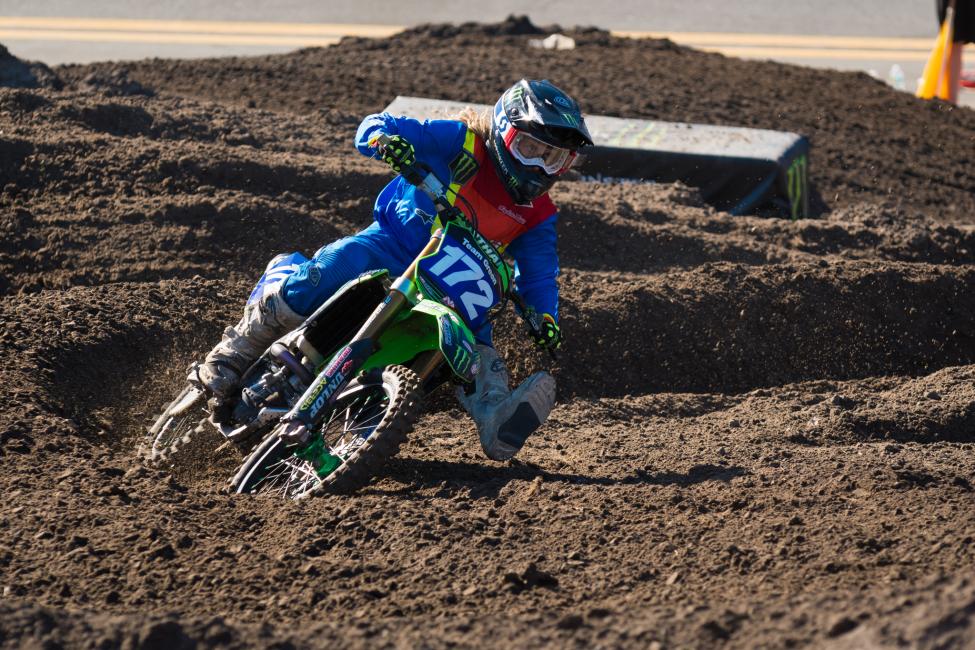 WMX Round 1 (RCSX) Overall Results:
Kylie Fasnacht (2-1) Yamaha/Factory Connection/Acerbis
Hannah Hodges (1-2) Kawasaki/Monster/Troy Lee Designs
Jamie Astudillo (4-3) KTM/RadMX.com/Ohlins
Jordan Jarvis (3-6) Yamaha/Fox/Monster Energy
Brinsley Dyess (5-5) SUZ
Marissa Polencheck (6-7)KAW
Bryce Martinez (7-8) Kawasaki/Team Babbits/Fly Racing
Shelby Rolen (14-4) Suzuki RM Army/Iron Pony Motorsports/FMF
Emilie-Jade Leveille (8-10) KTM
Cassie Belcher (9-11) KTM
WMX Points Standings:
Kylie Fasnacht (47)
Hannah Hodges (47)
Jamie Astudillo (38)
Jordan Jarvis (35)
Brinsley Dyess (32)
Marissa Polencheck (29)
Bryce Martinez (27)
Shelby Rolen (25)
Emilie-Jade Leveille (24)
Cassie Belcher (22)
About The Women's Professional Motocross Championship:
The Women's Professional Motocross Championship (WMX), an AMA National Championship, features the world's fastest female outdoor motocross racers. The 8-round series begins with the Ricky Carmichael Amateur Supercross at Daytona International Speedway in March and concludes at the Ironman National on August 24. It includes stops at premier motorsport facilities across America, with events in Florida, Texas, West Virginia, Pennsylvania, South Carolina, Tennessee and Indiana. These top female pro racers compete in a two-moto format on machines ranging from 125cc to 250cc. The WMX series is managed by MX Sports Pro Racing, a West Virginia-based company and industry leader in power sports event production. For more information, please visit www.racewmx.com or call (304) 284-0101.
About the American Motorcyclist Association:
Founded in 1924, the AMA is a not-for-profit member-based association whose mission is to promote the motorcycle lifestyle and protect the future of motorcycling. As the world's largest motorcycling rights and event sanctioning organization, the AMA advocates for riders' interests at all levels of government and sanctions thousands of competition and recreational events every year. The AMA also provides money-saving discounts on products and services for its members. Through the AMA Motorcycle Hall of Fame in Pickerington, Ohio, the AMA honors the heroes and heritage of motorcycling. For more information, visit www.americanmotorcyclist.com. Not a member? Join the AMA today: www.americanmotorcyclist.com/membership/join.