Chelsea Taylor
2018 WMX Championship Schedule Announced
TimeTuesday, January 23, 2018 | 1:00 PM
FOR IMMEDIATE RELEASE
Chelsea Taylor
(304) 284-0101
[email protected]
2018 WMX Championship Schedule Announced
Eight-Round Circuit to Conclude at Ironman Pro Motocross National
MORGANTOWN, W.Va. (January 23, 2018) – MX Sports, along with the American Motorcyclist Association (AMA) and participating race organizers, are pleased to announce the 2018 Women's Professional Motocross Championship (WMX) schedule. The 2018 WMX schedule has been re-designed to allow the world's best female racers an opportunity to compete at eight unique events throughout the course of six months.
Continuing tradition from years past, the 2018 WMX Championship will kick off alongside Daytona Beach's "Bike Week" festivities on Monday, March 12 with the ninth annual Ricky Carmichael Daytona Amateur Supercross on the historic grounds of Daytona International Speedway in Daytona Beach, Florida.
Following the season opener, the WMX racers will headline the Freestone Spring Championship on Saturday, March 24, in Wortham, Texas. The series will then travel to Tomahawk MX with the Mid-Atlantic Motocross Association on Saturday, April 21 for round three. The next round will take place on Friday, June 15, in conjunction with the 2018 AMA Lucas Oil Pro Motocross Championship at High Point Raceway on Father's Day Weekend.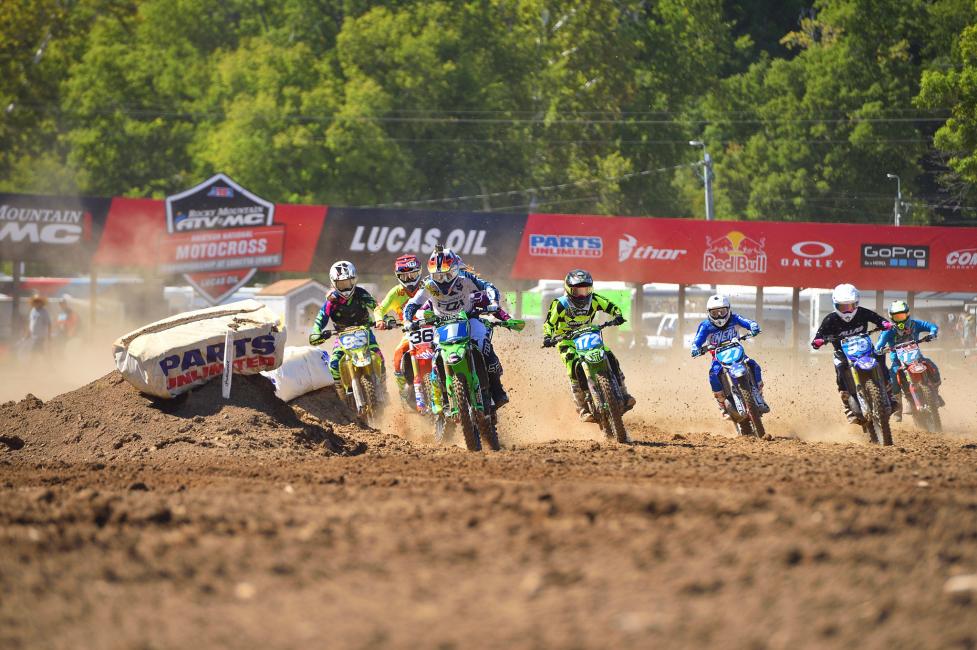 Perhaps the most anticipated round of the 2018 season is the Jessica Patterson Classic at Travelers Rest Speedway in South Carolina. The seven-time WMX champion will host a double-header round on June 30 and July 1, with a purse and point payout on both days. More information regarding the esteemed event will be released on www.racewmx.com as it becomes available.
"I am really excited to host a round of the WMX championship, and even more excited to have a double header," said Jessica Patterson. "This is something I've always wanted to do and to be able to give back to the series that has made me who I am today."
The WMX Championship continues at the Loretta Lynn Ranch in Hurricane Mills, Tennessee. Held on the fifth and final day of racing at the 37th Annual Rocky Mountain ATV/MC AMA Amateur National Championship, presented by Lucas Oil, the WMX division will race for the coveted championship in front of fans from across the world as they battle it out at the penultimate race of the season.
Finally, a WMX National Champion will be crowed Friday, August 24 at the Ironman National in Crawfordsville, Indiana, where WMX competitors will be able to showcase their talents in front of a unique crowd and many of the industry's top personnel.
"We have assembled a great schedule for the best women motocross athletes in the world to compete at some of the best facilities in America," said MX Sports Director, Tim Cotter. "The addition of the Tomahawk round will feature one of the Mid-Atlantic's most talked about venue. Also, the announcement of the Jessica Patterson Classic being a double header will be a great way for racers to earn double points with one trip."
2018 WMX Schedule
| | | | | |
| --- | --- | --- | --- | --- |
| Rd. 1 | Mar 12 | Mon | Ricky Carmichael Daytona Amateur Supercross | Daytona Beach, FL |
| Rd. 2 | Mar 24 | Sat | Freestone Spring Championship | Wortham, TX |
| Rd. 3 | Apr 21 | Sat | Tomahawk MX | Hedgesville, WV |
| Rd. 4 | Jun 15 | Fri | High Point National | Mt. Morris, PA |
| Rd. 5/6 | Jun 30-Jul 1 | Sat/Sun | Jessica Patterson Classic | Travelers Rest, SC |
| Rd. 7 | Aug 4 | Sat | Loretta Lynn Ranch | Hurricane Mills, TN |
| Rd. 8 | Aug 24 | Fri | Ironman National | Crawfordsville, IN |
The 2018 WMX license application will be open within the next few weeks. For more information on the WMX Championship, please visit the official website at www.racewmx.com or call (304) 284-0101. Also, follow the official Facebook, Twitter and Instagram accounts for exclusive content and to catch the latest news.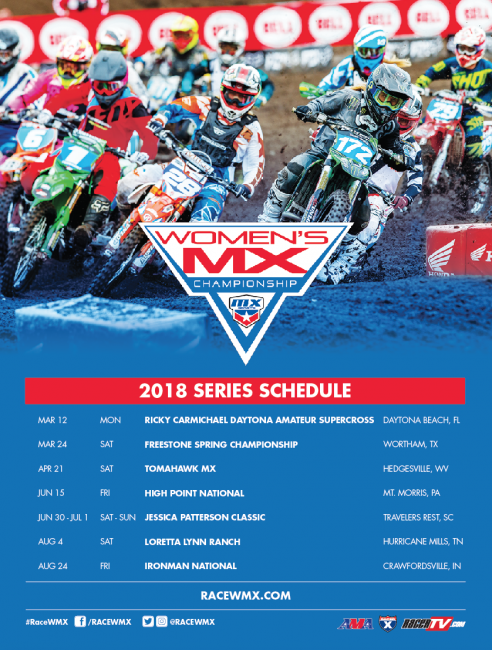 About Women's Professional Motocross Championship
The Women's Professional Motocross Championship (WMX), an AMA National Championship, features the world's fastest female outdoor motocross racers. The seven-round series begins with the Ricky Carmichael Amateur Supercross at Daytona International Speedway in March and concludes at the Ironman Pro Motocross National in August. It includes stops at premier motorsport facilities across America, with events in Florida, Texas, West Virginia, Pennsylvania, South Carolina, Tennessee and Indiana. These top female pro racers compete in a two-moto format on machines ranging from 125cc to 250cc. The WMX series is managed by MX Sports Pro Racing, a West Virginia-based company and industry leader in power sports event production. For more information, please visit www.racewmx.com or call (304) 284-0101.