Tim Clark
The Onsia Sound Art Women's Motocross Championship - Round Five
TimeMonday, May 22, 2017 | 5:25 PM
Round 5 of the Onsia Sound Art Women's Motocross Championship swung into action as part of the the opening round of the Lucas Oil Pro Motocross series. The field of riders came from all corners of the country and Canada to take on the legendary Hangtown National track, and once again it was two-time and current WMX champion, Kylie Fasnacht, who dominated both motos and took her third overall win on the season.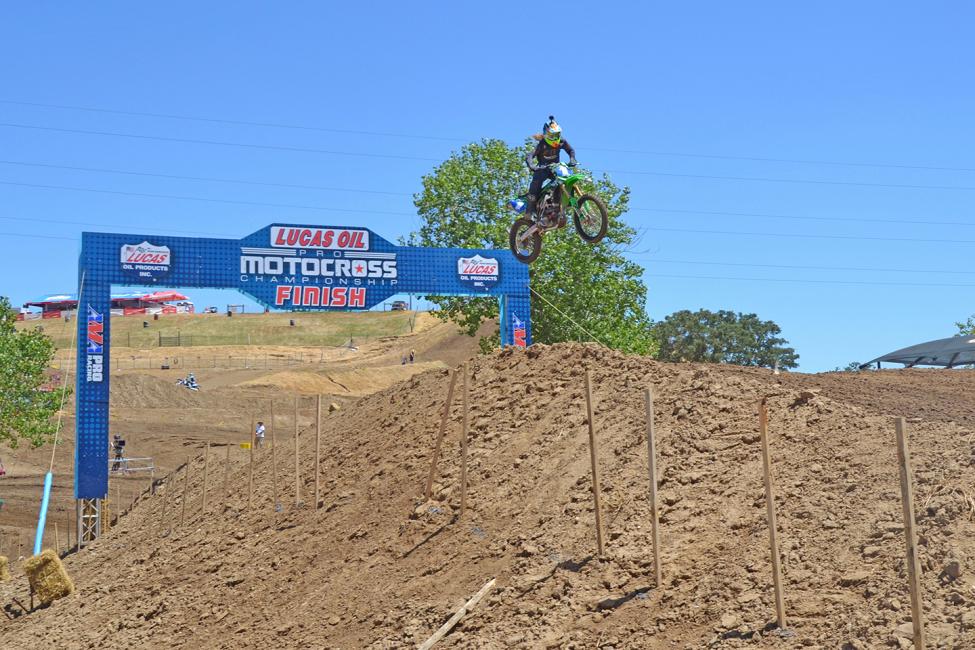 The women were excited to race the exact same track as the men, putting on a great show for the Friday crowd. When the gate dropped for Moto One, it was Fasnacht who barely edged out Jamie Astudillo for the Lucas Oil holeshot. The field of riders raced to the the top of the track track and as they came back down into view, it was Fasnacht with a solid lead. "I nailed the holeshot alongside Jamie and was able to throw my bike into the second turn, barely taking the lead, said Fasnacht. "From there I just put my head down and started checking off the laps one turn at a time. It was really a fun, challenging track."
By the end of lap one, Astudillo was still holding down 2nd with Shelby Rolen hooked to her rear fender followed by Canada's Eve Brodeur and Maryland's "Downtown" Amanda Brown in 5th. By the end of lap two, Rolen worked her way past Astudillo who was now in a battle with Brodeur for 3rd. Brodeur, who spent the last two weeks in training at the Grindstone compound in Murrieta, was determined to keep moving forward, "I got a bad start and tried to make up for it, but there was only one really good line on the track so it was really hard to get around the others girls," explained Brodeur. "I definitely gave it all I had and worked as hard as I could so I was happy to finish third."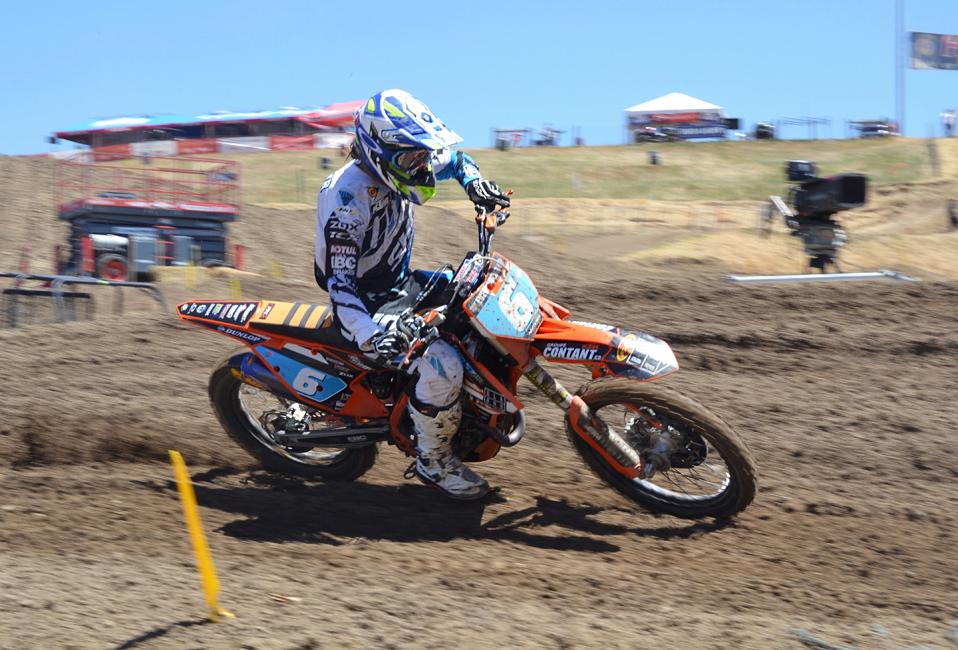 The Moto One finish order was Fasnacht, Rolen, Brodeur, Astudillo, and Brown followed by local rider, Amber Felicio, Colorado's Samantha Peters, Carrie Killebrew, Jaymie Hajewski and Nicole Gaudern rounding out the top ten.
Moto Two looked like a repeat of Moto One with Fasnacht once again taking the holesot with Rolen and Astudillo hot on her heels and Brodeur sitting in fourth. Astudillo rocketed into the second spot, holding it for the first lap until Rolen got by. "The track got me today and I had to fight through lots of arm pump," said Astudillo. "In Moto One I got a second place start and dropped to fourth in the second lap. Faded back but stayed in fourth. Moto Two kinda went the same, started in second dropped to third, stayed there for most of the race but got passed with three laps to go. Have to give it up to the top three girls - they rode amazing!"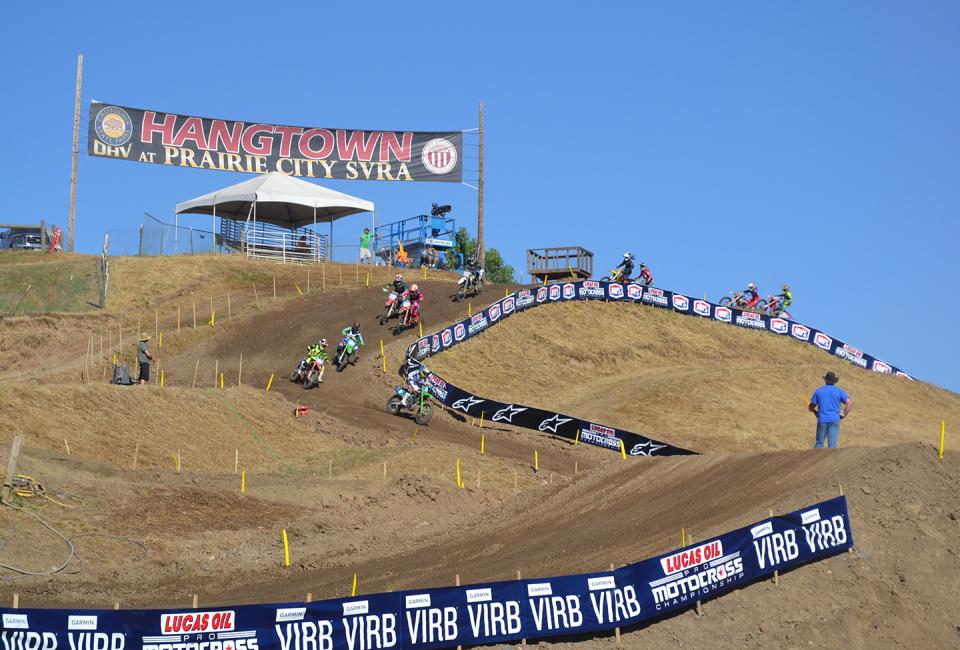 You could see the time Brodeur spent training at Grindstone starting to pay off as she looked stronger lap after lap, moving past Astudillo for the third spot, pushing her back to fourth in front of Brown, who put in two consistent rides on the day. "As we got ready for the second moto, we realized that it was getting super hot, almost 90 degrees. Mind you I am from Maryland and we haven't had heat like this in almost six months," said Brown. "I did not get a great start... man, do I need to work on those. Anyway, so we head around the first turn and I believe I am in like sixth or seventh, but somehow managed to pass several people, putting me in fifth again. It was definitely a hot one, and the track was so rough. I'm happy with my results though."
Moto Two finish order was almost identical to Moto One. Fasnacht, Rolen, Brodeur, Astudillo, Brown, Felicio, Killebrew, Peters, Hajewski and Gaudern. Which is exactly how they finished on the day with their combined moto scores.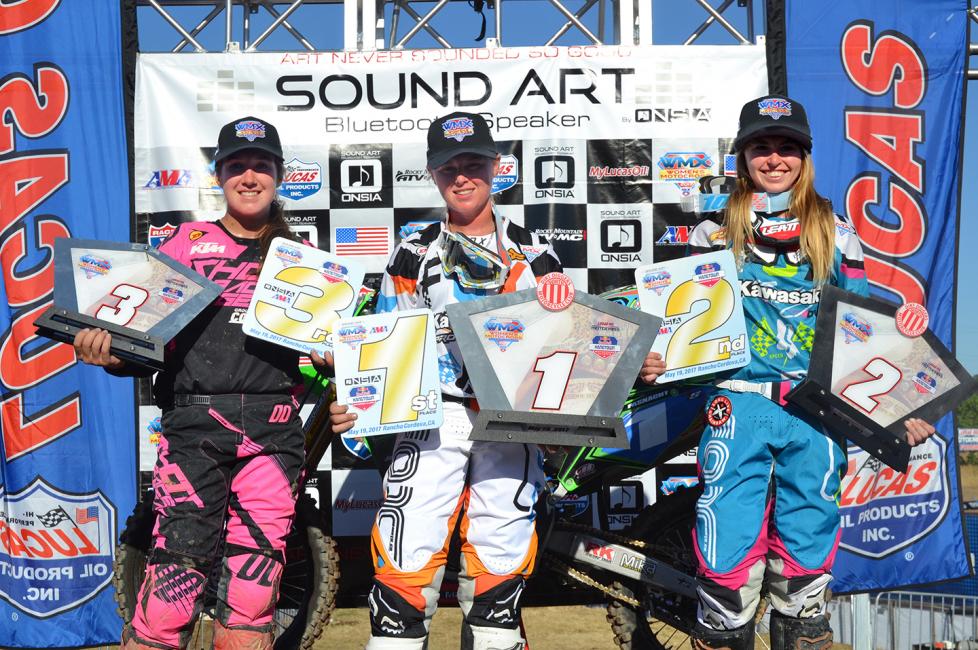 For more information, please visit the official website at ww.racewmx.com or call (304) 284-0101. Also, follow the official Facebook, Twitter and Instagram accounts for exclusive content and to catch the latest news.
Event Results:
Kylie Fasnacht (1-1)
Shelby Rolen (2-2)
Eve Broduer (3-3)
Jamie Astudillo (4-4)
Amanda Brown (5-5)
Amber Felicio (6-6)
Carrie Killebrew (8-7)
Samantha Peters (7-9)
Jaymie Hajewski (9-8)
Nicole Gaudern (10-10)
Jaden Carlson (11-11)
Carter Daugtrey (12-12)
Series Points Standings:
Kylie Fasnacht (233)
Eve Brodeur (175)
Jamie Astudillo (171)
Shelby Rolen (150)
Amanda Brown (141)
Brandy Richards (100)
Hannah Hodges (94)
Carter Daughtrey (87)
Carrie Killebrew (87)
Lauren Woods (82)
About Women's Professional Motocross Championship
The Women's Professional Motocross Championship (WMX), an AMA National Championship, features the world's fastest female outdoor motocross racers. The 8-round series begins with the Ricky Carmichael Amateur Supercross at Daytona International Speedway in March and concludes at the Loretta Lynn Ranch in August. It includes stops at premier motorsport facilities across America, with events in Florida, Texas, California, Nevada, Pennsylvania, Colorado and Tennessee. These top female pro racers compete in a two-moto format on machines ranging from 125cc to 250cc. The WMX series is managed by MX Sports Pro Racing, a West Virginia-based company and industry leader in power sports event production. For more information, please visit www.racewmx.com or call (304) 284-0101.
About the American Motorcyclist Association
Founded in 1924, the AMA is a not-for-profit member-based association whose mission is to promote the motorcycle lifestyle and protect the future of motorcycling. As the world's largest motorcycling rights and event sanctioning organization, the AMA advocates for riders' interests at all levels of government and sanctions thousands of competition and recreational events every year. The AMA also provides money-saving discounts on products and services for its members. Through the AMA Motorcycle Hall of Fame in Pickerington, Ohio, the AMA honors the heroes and heritage of motorcycling. For more information, visit www.americanmotorcyclist.com. Not a member? Join the AMA today: www.americanmotorcyclist.com/membership/join.
About ONSIA® Sound Art™
Sound Art™ introduces an entirely new way to listen to music in your home or garage, letting users enjoy personalized, custom artwork as well as high performance sound. ONSIA®'s flat panel design allows the entire surface of your artwork to generate high quality sound, which provides an incredibly robust listening experience. Sound Art™ elegantly hidden behind a high grade textured canvas wrap, bring together the best of engineering and design. This innovative design allows you to have Bluetooth® connectivity with the high quality of sound you expect without the bulky speakers.
Art never sounded so good™. For more information go to www.onsia.com.