Tim Clark
Kylie Fasnacht Tops WMX Las Vegas Round
TimeMonday, May 8, 2017 | 3:35 PM
FOR IMMEDIATE RELEASE
Tim Clark
(304) 284-0084
[email protected]
Kylie Fasnacht Tops WMX Las Vegas Round
Onsia Sound Art Women's Motocross Championship - Round 4
LAS VEGAS, Nev. (May 8, 2017) – The ONSIA Sound Art Women's Motocross Championship (WMX) rolled into Las Vegas this weekend as part of the AMSOIL Arenacross series. This was Round Four of the eight-round series, and although the Arenacross format was a bit different than their conventional two-moto motocross format, a full gate of the fastest women motocross racers in the country were on hand to take on the challenge - including two-time and current WMX champion Kylie Fasnacht.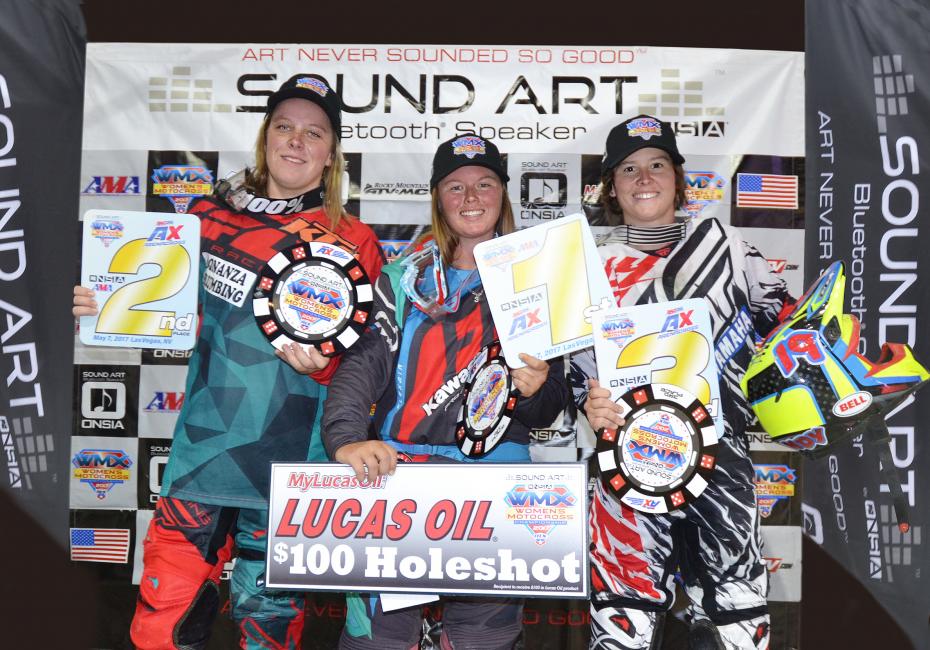 The WMX series fit perfectly into the Arenacross schedule with practice rounds held on Saturday, and the qualifiers and main event on Sunday. Factory KTM's Mackenzie Tricker was first to strike by winning the first heat race. Tricker was followed by Brandy Richards, Jaymie Hajewski and Lauren Woods. Tricker was a last-minute entry as her scheduled GNCC event was rescheduled to a later date due to extreme weather conditions. "This weekend was very last minute," explained Tricker. "I haven't been riding much motocross and absolutely no Arenacross since Vegas last year. After the GNCC was postponed I quickly put together everything with KTM to come and race."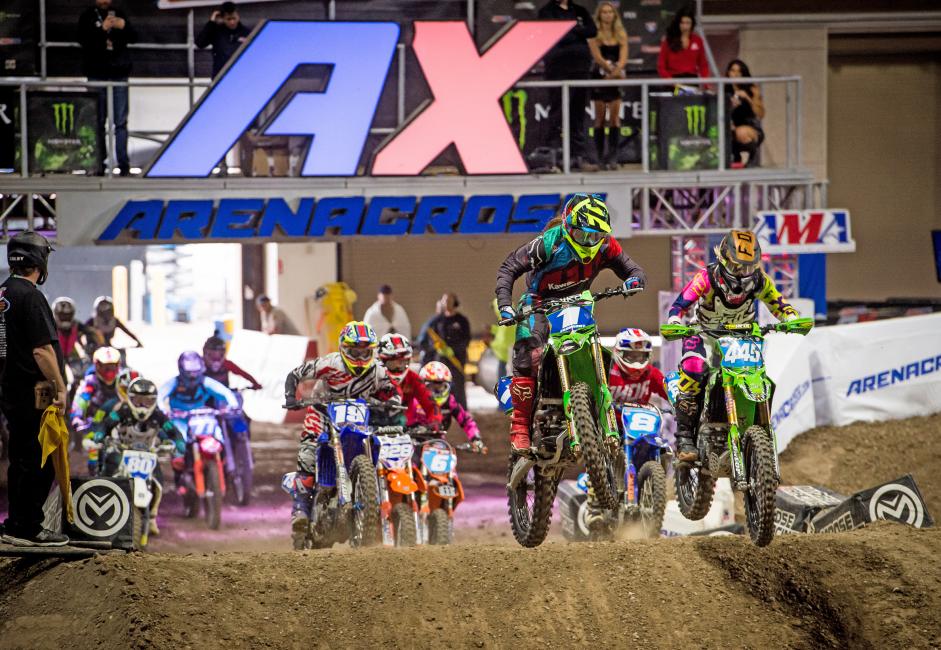 In Heat 2, Eve Brodeur took the holeshot followed by Shelby Rolen who went on to lead the first couple laps with Fasnacht in tow. It was obvious both riders had previous Arenacross experience - or it at least it looked like it as they proceeded to cut inside each other, banging bars and putting on a great show for the crowd. Fasnacht took the heat race win, followed by Rolen, Amanda Brown and Marissa Polencheck.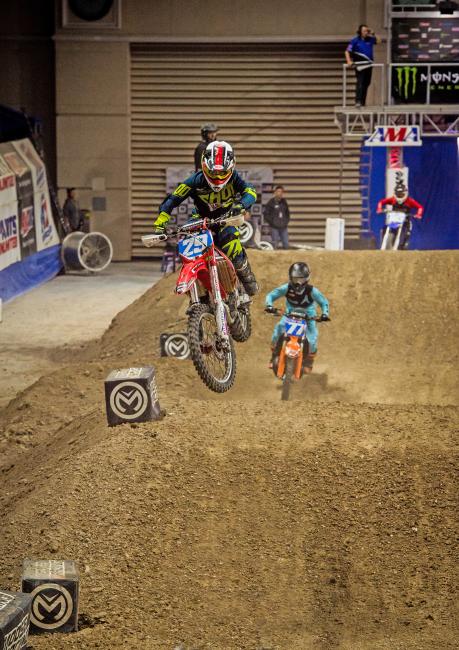 The stage was now set for the main event with 16 women representing 11 different states and Canada. It was a ten-lap main event with Fasnacht grabbing the MyLucasOil.com holeshot followed by Rolen, Woods and Richards. By the end of lap two, Richards worked her way up to second and Tricker, who was buried back in the pack off the start, quickly caught up to third followed by Rolen. While Fasnacht set the pace out front, Richards and Tricker started trading 2nd and 3rd place positions. Tricker eventually got by Richards and made it stick, setting her sights on Fasnacht, but the current WMX champion was too far in front to reel in and took the overall win. Tricker finished second, Richards third and Rolen put in a solid, consistent ride, finishing fourth. Eve Brodeur finished 5th followed by Carrie Killebrew, Lauren Woods and Jamie Astudillo, who took a serious header in the whoops during her heat race and soldiered through a wrist and hand injury to earn valuable series points.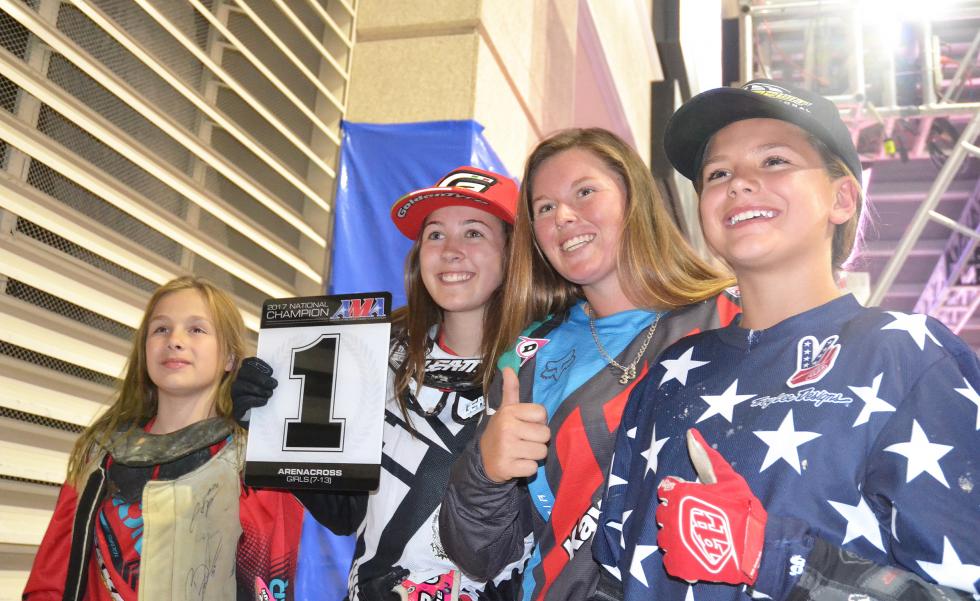 The pace was fast and the ladies quickly adapted to the tight confines of the Arenacross style racing. "It was awesome to switch it up for the weekend and get to race an Arenacross event," said Fasnacht. "Going to an Arenacross format was a change, but I loved it and I hope we get a chance to do it again."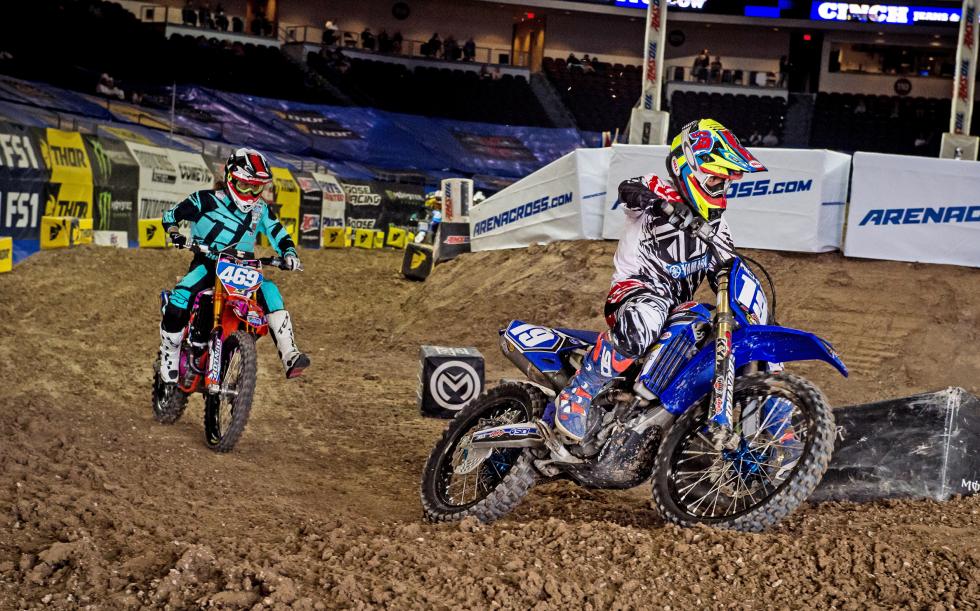 "Overall, I'm pretty happy with my results," said Tricker. "I won my heat and took second in the Main. I got off to a bad start but made it to second place, and then I actually got passed and was in third for a few laps, but then made it back to second. All in all it was fun to race and I had an okay weekend."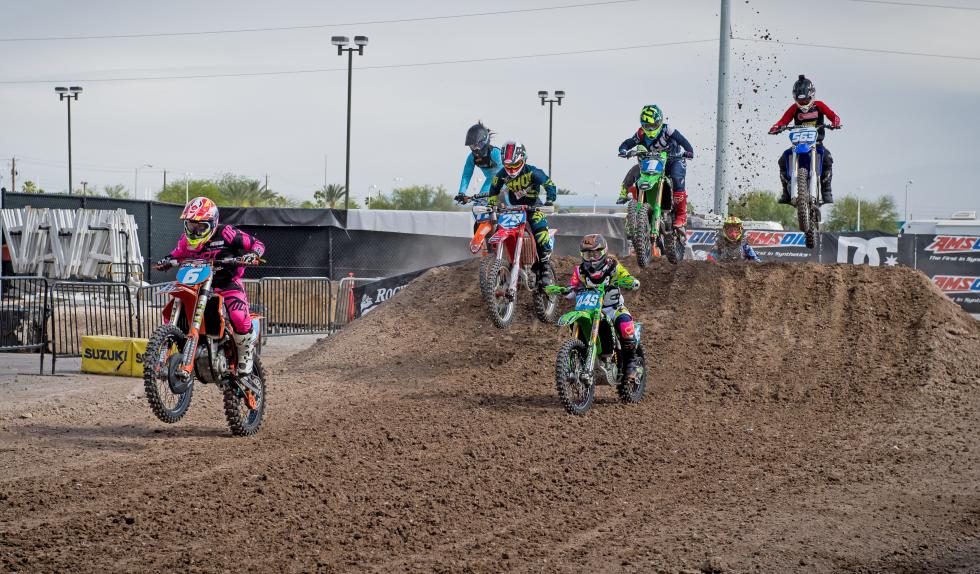 "My main even went pretty well," explained Richards, who splits her time between racing WMX, WORCS and the Big 6 series. "I was fourth off the start and made my way up to second, but I was struggling a little bit in the whoops and fell back to third. Overall it was a pretty good race and fun to do."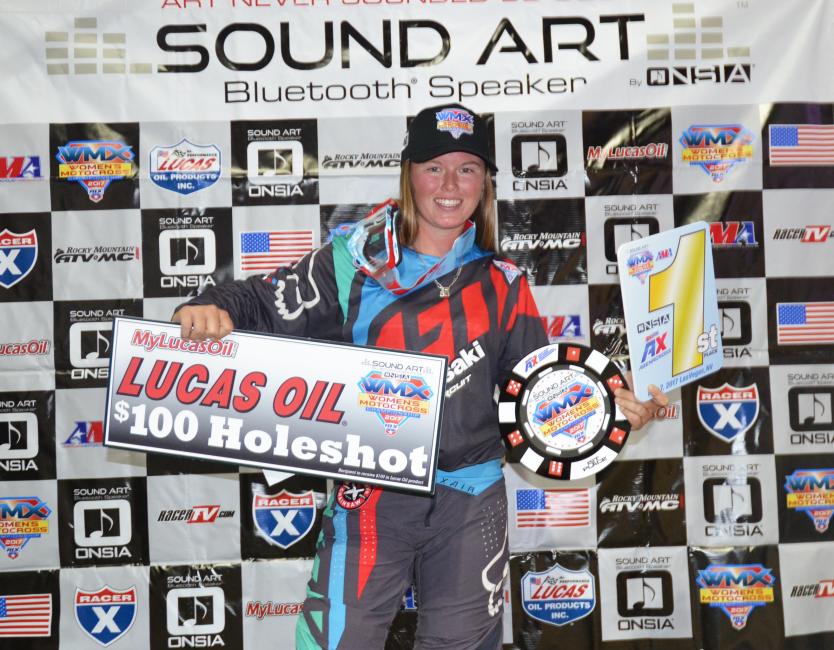 Kylie Fasnacht now has a solid lead in the WMX points standings, followed by Astudillo and Canada's Eve Brodeur. Round five of the WMX series will be held in conjunction with the first round of the Lucas Oil AMA Pro Motocross Series at the annual Hangtown Classic opener in Rancho Cordova, California, on Friday, May 19.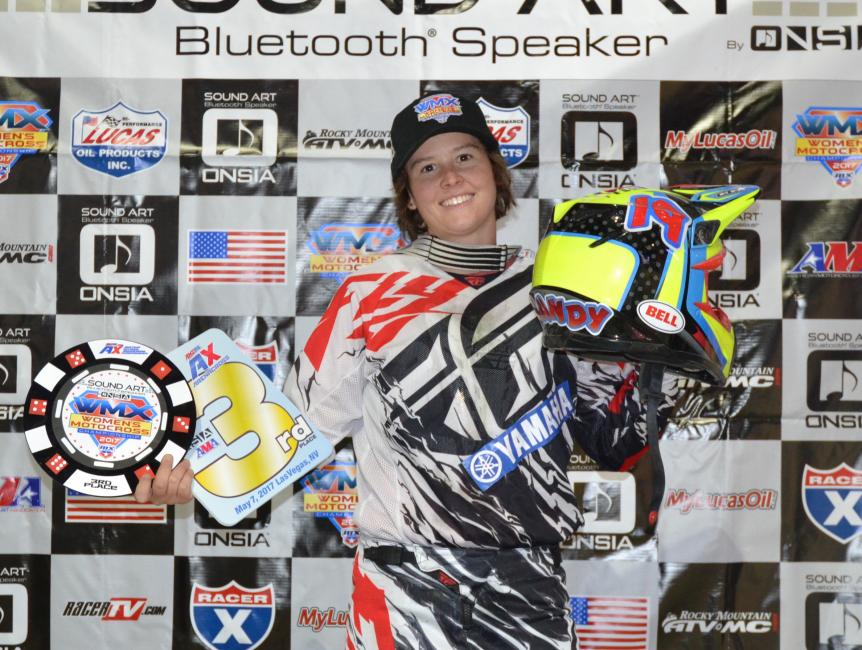 For more information, please visit the official website at ww.racewmx.com or call (304) 284-0101. Also, follow the official Facebook, Twitter and Instagram accounts for exclusive content and to catch the latest news.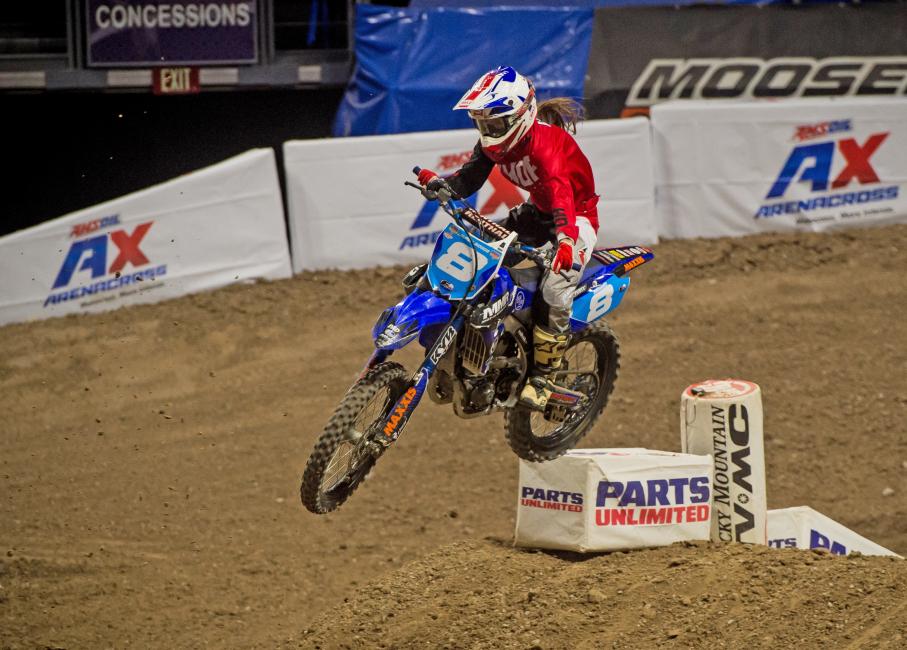 Event Results:
Kylie Fasnacht (KAW)
Mackenzie Tricker (KTM)
Brandy Richards (YAM)
Shelby Rolen (KAW)
Eve Brodeur (KTM)
Carrie Killebrew (HSQ)
Lauren Woods (YAM)
Jamie Astudillo (KTM)
Amanda Brown (HON)
Jaymie Hajewski (SUZ)
Series Points Standings:
Kylie Fasnacht (183)
Jamie Astudillo (135)
Eve Broduer (135)
Amanda Brown (109)
Shelby Rolen (106)
Brandy Richards (100)
Hannah Hodges (94)
Lauren Woods (82)
Mikayla Inman (81)
Mackenzie Tricker (79)
About Women's Professional Motocross Championship
The Women's Professional Motocross Championship (WMX), an AMA National Championship, features the world's fastest female outdoor motocross racers. The 8-round series begins with the Ricky Carmichael Amateur Supercross at Daytona International Speedway in March and concludes at the Loretta Lynn Ranch in August. It includes stops at premier motorsport facilities across America, with events in Florida, Texas, California, Nevada, Pennsylvania, Colorado and Tennessee. These top female pro racers compete in a two-moto format on machines ranging from 125cc to 250cc. The WMX series is managed by MX Sports Pro Racing, a West Virginia-based company and industry leader in power sports event production. For more information, please visit www.racewmx.com or call (304) 284-0101.
About the American Motorcyclist Association
Founded in 1924, the AMA is a not-for-profit member-based association whose mission is to promote the motorcycle lifestyle and protect the future of motorcycling. As the world's largest motorcycling rights and event sanctioning organization, the AMA advocates for riders' interests at all levels of government and sanctions thousands of competition and recreational events every year. The AMA also provides money-saving discounts on products and services for its members. Through the AMA Motorcycle Hall of Fame in Pickerington, Ohio, the AMA honors the heroes and heritage of motorcycling. For more information, visit www.americanmotorcyclist.com. Not a member? Join the AMA today: www.americanmotorcyclist.com/membership/join.
About ONSIA® Sound Art™
Sound Art™ introduces an entirely new way to listen to music in your home or garage, letting users enjoy personalized, custom artwork as well as high performance sound. ONSIA®'s flat panel design allows the entire surface of your artwork to generate high quality sound, which provides an incredibly robust listening experience. Sound Art™ elegantly hidden behind a high grade textured canvas wrap, bring together the best of engineering and design. This innovative design allows you to have Bluetooth® connectivity with the high quality of sound you expect without the bulky speakers.
Art never sounded so good™. For more information go to www.onsia.com.