Cruising up to the Ironman National, not far from the motorsports mecca of Indianapolis, Indiana, you'll see picturesque views of small town America. The late summer date produces porch weather, and that draws all the locals who marvel at the professional cavalcade that has rolled into their town. You get a sense that this race offers up everything you want in a big-time motocross race….well, except one thing. The land surrounding the track looks flat. Where are the hills? Where's the elevation change? Can this possibly work?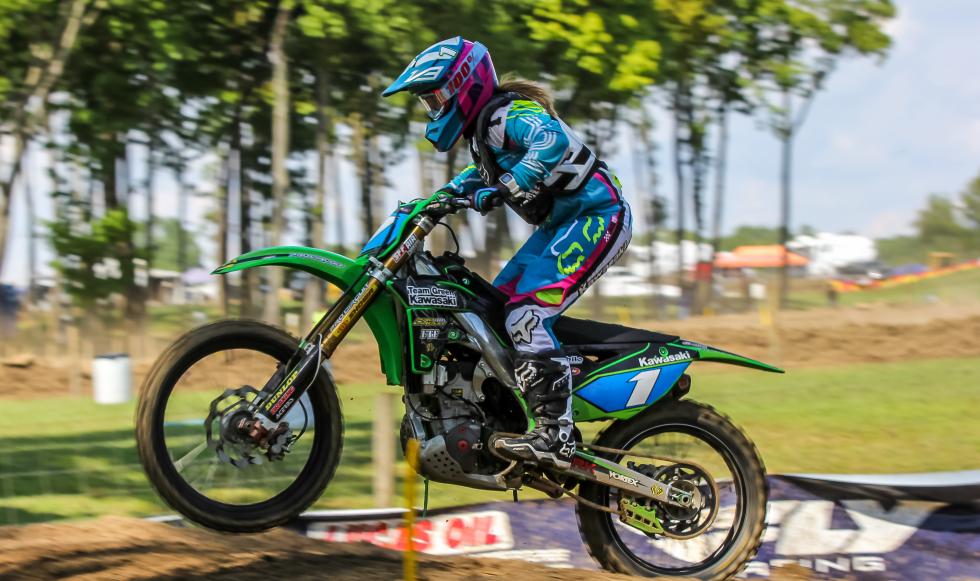 2018 Event Information:
Fees: $50
Times:
Practice/Timed Qualifying will be at 9:30 a.m.
Moto 1 will be at 11:30 a.m.
Moto 2 will be at 1:20 p.m.
Transponders will be used. $100 Deposit, $10 Rental Fee.
You park your crew in the huge flat field—perfect for camping and pitting, and head out to check out the big rigs in the easily accessible pro pits. Then you walk toward the track and suddenly something happens: the ground opens up, drops down, and practically swallows the race track whole. The Ironman Raceway track doesn't just offer up elevation change, it offers up some of the biggest, steepest combinations of jumps and hills in the entire series, including Godzilla, a massive uphill jump.
You've already sensed that the rest of the track is perfect: the dirt, the obstacles, the sightlines. Add in those hills, and you've got pure motocross. By the end of the day that deep soil grows hugely rough and rutted, and only those wise in old-school motocross techniques like, standing up and changing lines, and riding smarter not harder, can succeed. The dynamic terrain seems almost like a combination of every track in the series, all rolled into one place. Indiana is said to be the crossroads of America, and the Ironman track is the perfect crossroads.
Many of the industry's heavy hitters are on-site all weekend, which makes the two-moto WMX format on Friday a great opportunity for exposure. For more information on the Ironman National weekend, head over to the MX Sports Pro Racing website.
IRONMAN® is a registered trademark of World Triathlon Corporation, used by permission.